VINTAGE RARE Cerrillos NM Turquoise FRED Harvey NAVAJO Sterling Cuff 1920 Sz5.5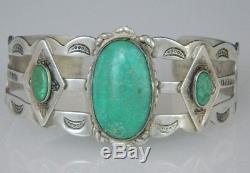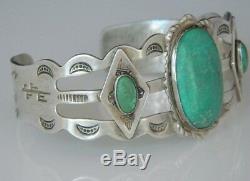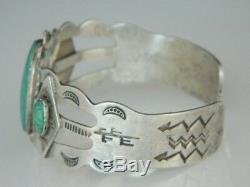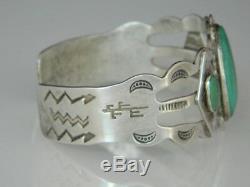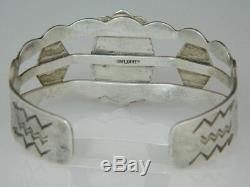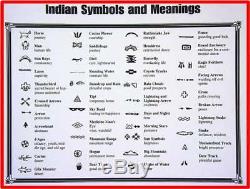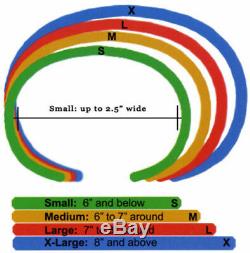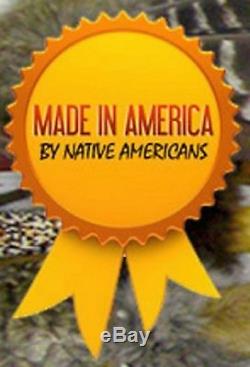 VINTAGE RARE Cerrillos NM Turquoise FRED Harvey NAVAJO Sterling Cuff 1920 Sz5.5. Interested in more than one item? Most of our items are Unique One-of-a-Kind and subject to availability.
So we do not disappoint you with a possible out of stock item. Don't wait we sell more Vintage Jewelry than any other Jewelry Because it is getting harder to find they quite making it 80+ years ago! Vintage jewelry is a great way to own a small piece of history.
Featuring more traditional techniques and a dark silver patina, vintage jewelry is very collectible. The age of our vintage jewelry usually ranges from the 1920's to 1970's, though some pieces may be older or newer. Prior to the 1960's, artists rarely signed their jewelry- therefore most vintage pieces are unattributed unless the original owner kept records. Most of our vintage jewelry is acquired from private collections and we feel honored to pass on these treasured pieces to new owners. We recommend leaving the patina on old jewelry, as polishing can diminish the value.
This lovely little ladies bracelet is made from solid sterling silver and High Grade Morenci Turquoise. The turquoise is New Mexico High Grade Cerrillos.
Hand-stamped Rattle Snake jaws in the silver for extra decoration as well as lighting bolts see the attached pic for there meaning. The bracelet is Early Fred Harvey Navajo circa 1920. Measurements: 5 1/2 inches plus a flexible 1 1/8 inch opening = 6 5/8 inches, 1 1/4 inch tall at the center. Weight: 31 grams, 1.1 ounces. Metal: Hand Stamped Sterling Silver, Stamped "Sterling". This Handmade cuff will become one of your favorites and is sure to become a treasured family heirloom for generations. The quality of this turquoise is second to none! This is a Classic PIECE FROM DAYS GONE BY. A great-looking, extremely wearable piece from a fascinating and romantic period of Southwestern history, this bracelet was likely first acquired by a traveler on the Santa Fe railroad from a Fred Harvey Company trading post such as the Indian Room at Albuquerques Alvarado Hotel or The Hopi House at the Grand Canyon.
As with Vintage Native American Pieces, some pieces may Exhibit Test Mark(s), Patina, Scratches, and Minor Dings from the Years in and out of Pawn Shops and Personal Collections. Words alone are not enough describe this extraordinary cuff so please take a look at the pictures to get a feel for this magnificent valuable masterpiece of Native American Indian craftsmanship. Fred Harvey Style (1900 1955). You will often see the term Fred Harvey era in many jewelry descriptions.
There are estimated to be three distinct periods in the Fred Harvey era of dating jewelry and other Native American art objects. Others may have their own breakdown of these time periods.
Early Fred Harvey era: Late 1800s 1910s [rare]. Mid Fred Harvey era: 1910s 1930s. Late Fred Harvey era: 1940s 1970s. Even so, it continued to be produced until the mid-1940s or 1950s. Continued on until the 1970s. Fred Harvey [1835 1901] was a prominent 19th century Native American curios entrepreneur, business man, hotel and restauranteur who fairly singlehandedly established the emerging 20th century American tourist fascination with traveling to the great American southwest and exploring the culture of Native Americans and their legacy of Native arts, jewelry and crafts. Instead of referring to the tourist jewelry from the era as Fred Harvey jewelry, it has been suggested that railroad jewelry would have been more appropriate as Harvey entered into an ingenious contract with the Santa Fe Railroad to provide a series of luxurious new eating houses along the new rail routes which were quickly crisscrossing the American southwest. Once Indian jewelers and traders realized the Anglo preference, they began catering to the Anglo tourist's tastes by producing a full line of lightweight jewelry, much of it mass-produced with the help of specialized machinery and commercial sheet silver. There were also numerous silversmiths who insisted on making everything by hand: pounding, cutting, stamping etc. In addition to the consideration of weight, various design elements or symbols were decided upon as standard designs that would decorate most products - the Thunderbird, the arrows (crossed arrows or single arrows), the four-directions symbol, lightning zigzags, arrowheads, etc. It was perceived that these were the symbols that most tourists had in mind as belonging to the Indian realm, and consequently, many Indian jewelers would keep to the use of these symbols instead of adding their own personal touch or incorporating other aesthetics. Today, Fred Harvey era jewelry is Highly Collectible and highly sought after. Easy to wear, and generally with a fair amount of ornamentation/stamping, Fred Harvey jewelry is an enjoyable genre of Indian jewelry that takes us back 100 years and can leave us in awe! This marvelous bracelet is spectacular!
It is even more impressive in person than the pictures show! There is some band flexibility for size adjustment. An exact date is not available for when the stamp STERLING was first used on Native American jewelry.
Items made in the 1930s would usually not have that stamp nor any other hallmark. A few items made in the 1940s to 1950s might have the STERLING stamp, most notably, those made by Bell Traders during that time period. Pieces made in the 1950s and 1960s and later often have the STERLING indication. Cerrillos is not only an uncommon and unique form of native New Mexican turquoise, but has a history entwined with both ancient Native peoples of the Southwest and more recent American mining companies. Cerrillos turquoise was created and mined under unusual circumstances.
It is the only turquoise that formed at the base of a volcano. Thus, a variety of colors developed from the minerals in the various volcanic host stones. In fact, the Cerrillos New Mexico Turquoise mines produce seventy-five colors, from tan to khaki-green to rich, blue-green to bright and light colors. Located ten miles south of Santa Fe, it was the site of the largest prehistoric mining activity on the continent because the huge turquoise deposit was partially exposed at the surface. Miners from the San Marcos Pueblo, who later moved to Santo Domingo Pueblo south of Santa Fe, most heavily worked the mine.
Using only stone axes, mauls, antler picks, and chisels, Pueblo miners removed 100,000 tons of solid rock to create a pit mine 200 feet deep. They dug other vertical shafts into the ground to reach veins of turquoise.
Miners carried tools and leather rock buckets on their backs as they climbed in and out of the shafts using notched logs as ladders. The turquoise obtained from this hard work traded among early peoples from Mexico to the Midwest and from the east to west coasts. In New Mexico, many pieces of Cerrillos turquoise for personal and trade use have been unearthed in the prehistoric ruins of Pueblo Bonito in Chaco Canyon. The Pueblo peoples continued to extract turquoise from the Cerrillos mine until the 1870's when a silver mining boom raised interest in the area. This bracelet is filled with elegance and it gives off a timeless look and feel.
It is sure to be a great addition to any collection! Words alone are not enough describe this extraordinary bracelet so please take a look at the pictures to get a feel for this magnificent valuable masterpiece of Native American Indian craftsmanship.
Turquoise is sacred to both Native American and oriental traditions. It is associated with the sky, and bringing sky energy to earth. It can help promote honest and clear communication from the heart. Turquoise is also a powerful crystal for relieving stress. It is also said to protect against pollution in the environment, and to bring abundance.
Turquoise is said also help speed the healing process, and is also known as a master healer stone. It is very powerful for grounding and protection also.
Turquoise is associated with the throat chakra primarily. Silver is a mineral that is said to mirror the soul, strengthen the connection between astral and physical bodies, and enhance intuitive and psychic energies. Silver is mystically considered to improve speech, bring eloquence. It is also purported to attract, enhance and store the energies of gemstones, as well as draw out negative energies. Silver is related to the moon, and moon energies. Physically, crystal healing lore indicates that silver is has been traditionally used to aid hepatitis treatments, eliminate toxins, expel toxins through the pores, headache, rheumatic pain, nausea and gastritis, obesity, diabetes, and increase assimilation of vitamins A and E. Turquoise, the "fallen sky stone" hidden in Mother Earth, has been valued by cultures for its beauty and reputed spiritual and life-giving qualities for over 7000 years.
It is a true gem of the centuries and has been cherished above all else in creation as the stone of water, stone of blessings, good fortune, protection, good health and long life. This Handmade bracelet will become one of your favorites and is sure to become a treasured family heirloom for generations. The quality of this turquoise bracelet is second to none! Thanks for looking and be sure to check out my store for more selections of authentic Native American jewelry and artifacts!
If you like our products, please add me to your. List or consider subscribing to our.
For updates on newly listed items, sales and special promotions! We would be happy to consider reasonable offers. HIGHLY COLLECTIBLE PIECE OF JEWELRY AND GOOD INVESTMENT! Compare your own financial investments over the past ten years to investments in pieces of Native American Indian and Mexican art and antiques!
If you want to add to your Vintage collection, take a look at our Handmade. Category where we have a wide selection of authentic pieces to choose from. WHAT A GREAT GIFT IDEA FOR THE NATIVE AMERICAN ARTIFACT COLLECTOR!
We understand the true value and nature of hand crafted Indian art. And, we recognize that it is important to know that the artist is truly a member of a Native American tribe. So, to ensure you that this is the real deal, a Certificate of Authenticity will be included with this item. I dislike having to do that, so please pay promptly. We are aware of your concerns in regards to the condition of your art work upon arrival.
We use safety and care every step of the way in packing and sending your Kachina to you. These charges are the buyers responsibility.
We aim for five star service and want you to be happy - period. International Buyers are willkommen, bienvenue, ???? Statement of Authenticity: We fell in love with Native American jewelry many years ago and really appreciate the true craftsmanship that goes into the making of a piece of genuine Native American jewelry art! That is why we chose to partner up with some of the oldest and most reputable Trading Posts in the Southwest who deal directly with the Native American artisans to bring you a large selection of authentic Native American products. These artisans come from the Navajo, Zuni, Hopi and affiliate tribes on the reservations all of which our close to our home and office, so you can be assured that all our Native American products are authentic!
Most of our items are One-of-a-Kind and subject to availability. We try to keep our listings up to date, but may occasionally miss one. In some cases, we can have one custom made with a two week lead time. If you like our products, please add me to your FAVORITES list. This is very important to us. It lets us know that you have received item and are happy with it. As soon as we get feedback, it leaves you feedback in return. We are always adding new items.
The item "VINTAGE RARE Cerrillos NM Turquoise FRED Harvey NAVAJO Sterling Cuff 1920 Sz5.5" is in sale since Thursday, January 26, 2017. This item is in the category "Jewelry & Watches\Ethnic, Regional & Tribal\Native American\Bracelets". The seller is "elkcreektradingllc" and is located in Kykotsmovi Village, Arizona. This item can be shipped to United States, Canada, Germany, Japan, Australia.
Jewelry Type: Bracelets
Metal: Sterling Silver
Metal Purity: .925 Sterling
Main Stone: Turquoise
Tribal Affiliation: NAVAJO
Country/Region of Manufacture: United States
Origin: USA
Signed?