Signed Trifar Vintage Sterling Silver Clip On Rare Unique Fashion Earrings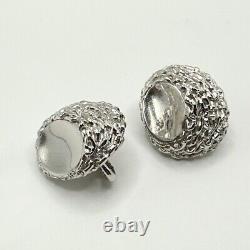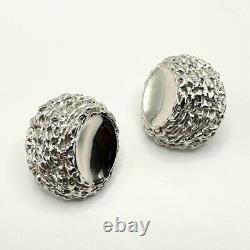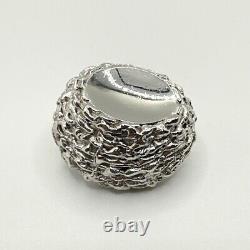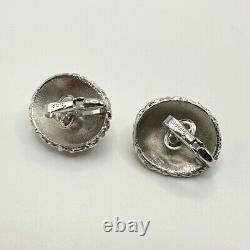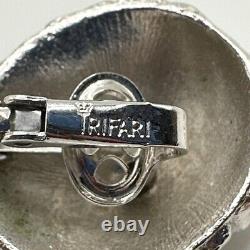 Elevate your jewelry collection with the enchanting charm of these Signed Trifari Vintage Sterling Silver Clip-On Earrings. These exquisite pieces, adorned with the prestigious Trifari signature?? Evoke a sense of timeless sophistication and vintage allure. Gracing your ears with dimensions of 0.94 inches by 0.81 inches, these earrings strike the perfect balance between subtlety and statement.
The careful craftsmanship and intricate design ensure that these earrings capture attention without overwhelming, allowing you to exude elegance effortlessly. Fashioned from sterling silver, these earrings radiate a soft, alluring gleam. The metal's understated beauty catches the light??
In a graceful play, accentuating the delicate curves of the earrings' design. Designed as versatile clip-ons, these earrings offer both comfort and style.
They elegantly clasp onto your ears, providing a secure fit without the need for piercings. The ease with which they adorn your ears makes them a true testament to the art of accessible elegance.
The vintage essence of these earrings takes you on a journey through history, reminiscent of eras defined by intricate aesthetics. The Trifari name etched into these earrings speaks volumes about the legacy of craftsmanship that they embody. Whether you're dressing up for a formal affair, infusing a touch of classic elegance into your everyday look, or seeking to relish in the charm of vintage-inspired fashion, these earrings are your ideal companions. Their adaptability ensures they're equally at home at glamorous events and cherished everyday moments. With dimensions of 0.94 inches by 0.81 inches, the Signed Trifari Vintage Sterling Silver Clip-On Earrings celebrate the art of subtlety, capturing the essence of timeless beauty in every detail.
Adorn your ears with these treasures, and let the whispers of the past infuse your style with an air of grace and allure.