Antique Vintage Nouveau Sterling Silver Etruscan Lapis Lazuli Festoon Necklace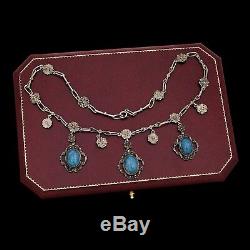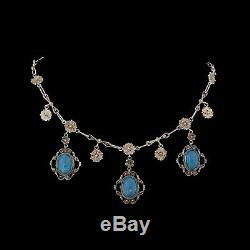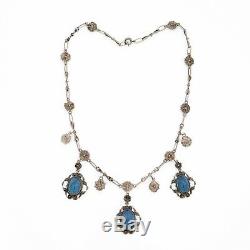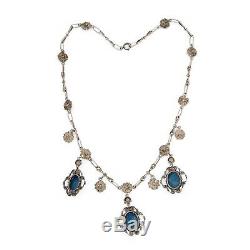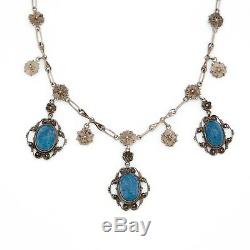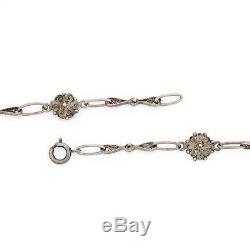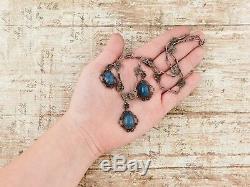 We have similar Etruscan and Lapis Lazuli items, which would pair nicely with this piece, for sale this week. Age Circa: Art Nouveau C.
Gram Weight: 19.4 Grams. Main Stone Carat Weight/Color: 14.05 mm long, 9.65 mm wide, Solid blue hue with mottling of lighter and darker blue shades and gold speckling. The stone(s) appear to be untreated, but we are not certified gemologists. Stone(s) have been tested and guaranteed using a professional Presidium Duo refractive, heat, and hardness tester. Stone Cuts: Carved and Polished Cabochon.
Item Measurements: The necklace has a wearable length of 16.5. The pendants measure 0.85" in length and 0.80" wide. Closure/Clasp Type: Spring Ring Clasp.
Link Type: Specialty Filigree Floral Links. Notable Features: This necklace was handmade during the Art Nouveau era. 925 sterling silver, the necklace features three lapis lazuli pendants and filigree, floral motifs inspired by the.
Following the discovery of ancient Etruscan sites outside of Rome in the early 1800s, jewelers quickly began to incorporate the techniques and styles seen in jewelry found at these sites, with filigree and granulated beading being especially popular. This movement would continue through the 1800s and into the 20th century, changing the approach to jewelry design forever. The focal points of this lavaliere style necklace are the three pendants within which rest carved and polished lapis lazuli stones. Each of these stones displays a solid blue hue with a mottling of lighter and darker blue shades throughout, as well as the beautiful gold speckling this variety of stone is so prized for.
To keep the stones secure, they rest in sterling silver bezels, the cool color of the metal a perfect complement to the deep blue of the lapis lazuli. Beautiful detail is added to the overall design of this necklace by the chain, which is comprised of specialty filigree links, some of which have been crafted into the motif of flowers.
These filigree accents would have been crimped entirely by hand, a lovely example of the handcrafted quality of Art Nouveau jewelry. In further emulation of the Etruscans, the filigree designs have also been adorned with granulated beading. Completing the necklace is a spring ring clasp.
When worn this necklace sits just below the collarbone on most people with the pendants dangling below in the festoon style. A stunning example of Etruscan-inspired jewelry from the Art Nouveau era, this necklace would make a valuable addition to any antique jewelry collection. Don't miss your chance to own this piece of cultural history. This listing is for the item only. This was very true due to the gorgeous designs that came out of this period.
This era focused on women and the beauty of nature and the pieces were often large. Enamel was a common material used in Art Nouveau jewelry as the period was more about the importance of the design over the materials used to create it. The Art Nouveau period happened before the start of the first World War, when mass manufacturing took over the production. Of many products, including some jewelry.
Archaeological revival jewelry was inspired by the excavations and discoveries of Roman, Byzantine, Egyptian, and Etruscan sites in the 18th and 19th Centuries. These archaeological digs uncovered beautiful works of decorative arts, giving jewelers a glimpse into the past for inspiration for contemporary designs. Some of the revival styles incorporate the use of filigree and granulation decorations. The revival styles emphasized the contrast between antiquity and modernity, with jewelers of the modern world borrowing motifs and techniques from the ancients, to perfect with advanced technologies and incorporate into modern designs.
Etruscan revival jewelry swept into popularity in the early 1800s with the Victorian era discovery of Etruscan tombs just outside of Rome in Italy. These archaeological digs unearthed beautiful golden jewelry that had been meticulously ornamented with tiny gold beads, featuring flowing geometric shapes, celestial motifs, and a plethora of sacred and Greco-Roman mythological figures.
The techniques of repoussé, filigree, and granulation are all attributed to the Etruscans. Jewelers all over the world avidly began to attempt to replicate these ancient techniques, changing the way fine jewelry was made for many years.
Lavalieres are necklaces that include a fairly long chain or small link necklace, that ends in a single large pendant or tassel, which in turn often has additional pendants or tassels dangling from it. Though named for a mistress of Louis XIV, the style is usually associated with turn-of-the-20th-century jewelry and remained popular into the 1930s. A festoon, by definition, is a garland of flowers, ribbons, or leaves hung in a curve as a decorative element or incorporated as an architectural feature. Thus, a necklace must have swags or drapes of chain, beads, or metal findings as part of the design.
The festoon necklace became popular during the Georgian period and carried over into the Victorian era, with some more elaborate fashionable (not meant for mourning) black necklaces made during this period incorporating swags of jet beads. Bohemian garnets and other materials were also used. Festoon necklaces were popular during the Edwardian era as well, with a return to more delicate chains in the designs or elements reflecting garland style with ribbons, flowers, and bows. Historians believe the link between humans and lapis lazuli stretches back more than 6,500 years.
The gem was treasured by the ancient civilizations of Mesopotamia, Egypt, China, Greece, and Rome. They valued it for its vivid, exquisite color, and prized it as much as they prized other blue gems like sapphire and turquoise.
At the end of the middle ages, lapis was ground up and used as the ultramarine pigment found in painting. Filigree metalworking is a delicate form of art and has been found as early as 3,000 BC in Mesopotamia.
It was perfected by the Phoenicians and Etruscan civilizations between the 6th and 3rd centuries BC. It involves stamping out a design in metal and hand bending and twirling threads, combined with tiny beads until a final motif emerges. It is reminiscent of lace and considered one of the most difficult metalworking processes. Filigree is still a very popular technique in India and Asia. The item "Antique Vintage Nouveau Sterling Silver Etruscan Lapis Lazuli Festoon Necklace" is in sale since Sunday, November 25, 2018.
This item is in the category "Jewelry & Watches\Vintage & Antique Jewelry\Fine\Art Nouveau/Art Deco 1895-1935\Necklaces & Pendants". The seller is "abeautifultimeco" and is located in Fort Collins, Colorado. This item can be shipped worldwide.
Style: Collar
Country/Region of Manufacture: Unknown
Modified Item: No
Metal: Sterling Silver
Metal Purity: .925
Main Stone: Lapis Lazuli