116gr Vintage Tane Orfebres TaxcoMexico Sterling Silver Teardrop ChunkyNECKLACE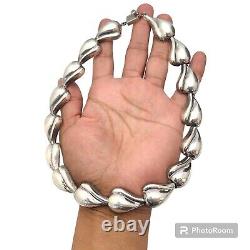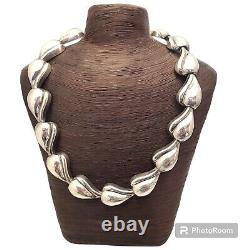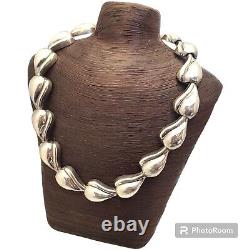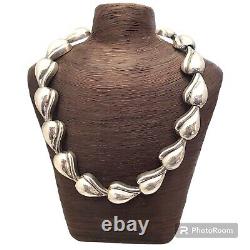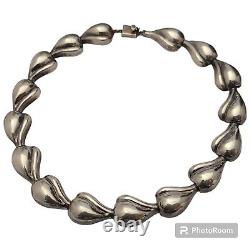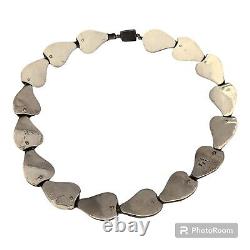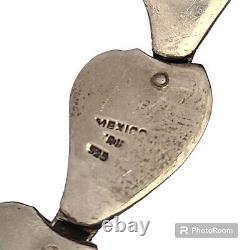 Vintage Tane Taxco Mexico 925 Sterling Silver asymmetrical design Statement jewellery at its best, this sterling silver teardrop necklace features interlinking polished pieces, assembled by hand in an overlapping design. The height of classic sophistication, this gorgeous necklace has a discreet stylised clasp, making this a wonderful choice for special occasions! A great looking piece that is going to give you an excellent addition to your collection of Mexican jewelry made by TANE TANE Brand History TANE was founded in 1942 by Sergio and Natalia Leites, who were originally from France. The husband-and-wife duo were art collectors who came to Mexico after fleeing Paris during World War II.
They initially settled in Mexico Citys Zona Rosa area, where they opened a leather products boutique known as a tannery, from which the name TANE comes. After some time, Sergio and Natalia decided to give their business an unexpected twist. They began working with local goldsmiths to create details for their bags and accessories, which began their relationship with Mexicos silver industry.
TANE became a household name in the 1950s. In 1953, TANE moved to Amberes Street in Colonia Juarez and began focusing on jewelry design inspired by pre-Columbian art pieces. This was the beginning of what would become an astounding legacy in jewelry, enhancing one of Mexicos most iconic elements. Necklace is 18inches long 18mmx23mm wide weight 116.0 grams great addition to your collection?